By senseng |
11
July 2023 |
0
Comments
Fashion and Comfort Combined: Exploring Natural Dyed Baby Puff sleeves Bodysuit
Are you searching for a fashionable and comfortable outfit for your little one? We are thrilled to introduce you to a captivating product- baby natural dyed puffed sleeve bodysuit. These bodysuits stand out for their material selection and unique style, meeting your baby's comfort needs while exuding a charming retro vibe.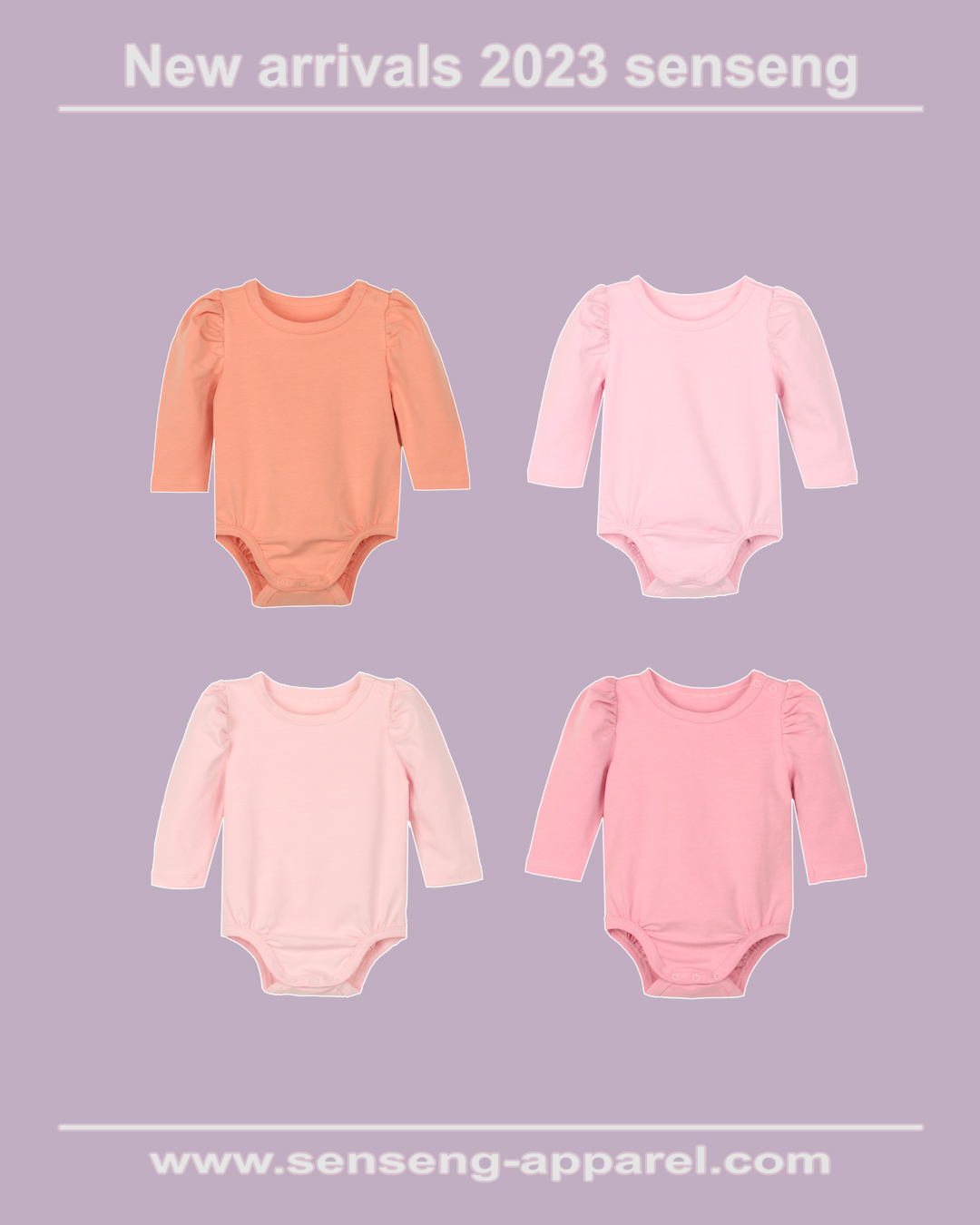 Let's start by delving into the unique material used in these baby bodysuits - organic cotton dyed with plant-based extracts. Unlike traditional dyeing methods, natural dyes utilize natural extracts and exclude harmful chemicals. This means you can confidently dress your baby in these bodysuits without worrying about any irritations or discomfort on their sensitive skin. The choice of organic cotton also ensures excellent breathability, helping regulate your baby's body temperature and keeping them dry and comfortable.
Apart from the material, the style of these baby bodysuits is worth noting. They feature puffer sleeves, a design that adds a playful touch and a touch of fashion-forwardness. Puffed sleeves not only enhance the bodysuits' visual appeal but also provide ample shoulder and arm mobility, allowing your little one to explore the world with ease. Moreover, these bodysuits boast classic tailoring and clean lines, adding to your baby's irresistible charm in everyday activities.
The style of these baby bodysuits is perfect for daily wear. You can dress your baby in them for everyday activities, allowing them to exhibit a unique sense of fashion while staying comfortable. Whether for playtime at home or outings, these bodysuits offer maximum freedom of movement and comfort. Furthermore, their timeless retro style suits various occasions, whether family gatherings or outdoor photoshoots, making your baby the center of attention.
Puffed sleeves baby bodysuits with natural dyes are a unique and stylish choice, perfectly blending comfort and fashion. The use of organic cotton provides a soft and gentle touch against your baby's skin, while the natural dyes ensure safety and sustainability. These bodysuits are fashionable and eco-friendly, allowing you to make a conscious choice for your baby and the planet. Invest in these organic cotton bodysuits with plant-based dyes, and let your baby explore the world in comfort and style.
Leave a Reply
Your email address will not be published.Required fields are marked. *